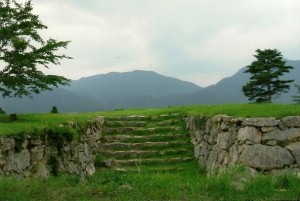 Probably my favourite place (at least for now). A place the tourists haven't found yet. A great place to bring a bottle of wine, a little cheese, and anything else. In winter be ready for snow. There isn't much there, just the remains of a castle, extensive series of walls, and a wonderful view of the valleys below.
Take the JR to Himeji and change for the Bantan Line going to Todayama. Get off at Takeda (don't take the express!). From the station you can see the castle walls on the hill across the tracks. There are some stores in the town straight ahead as you leave the station, if you want some food. There are two ways to get to the castle, the woods route and the road route. The woods route: across the tracks there is a shrine (long red steps) and a temple (white wall). Keep the shrine on your right and go along the white wall up the hill. This path will lead through a cedar grove and wind its way up to the castle. The road route: walk straight from the station, make the first right and walk through town. After about ten minutes make a right turn across the tracks and follow the road up the hill to the castle.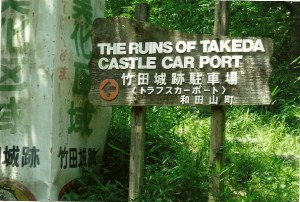 Editor's note: I think George would be both disappointed and amused to know that the tourists have indeed finally discovered this place and it's now referred to in guide books as the "Machu Picchu of Japan." It's heavily promoted by local tourism boards, and now features an extensive system of paths covered with some type of synthetic material and lined with ropes. Kind of a drag since you used to be able to roam freely and have a picnic on the grass. We went on a rainy day and it wasn't too busy, but it sees a lot of visitors these days.