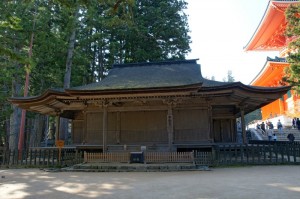 If all the temples and shrines in Kyoto are too much for you, here is a smaller version up in the mountains south of Osaka. There are good mountain views both on the train and once you get there.
Take the JR to Umeda (or your favourite alternative!). From there take the Midosuji line to Namba. Change to the Nankai-Koya line to the last stop. At the ticket machine for the Nankai-Koya line there is a button for the Koya-san which gives you a ticket for both the train and the cable car up the mountain. The trip from Kobe is about 2 hours.
Once you get to the last stop the cable care is right there at the end of the platform. At the top there are buses, but the walk is a good one. You can go right or left. If you go right, the walk is along a "highway" with some good views of the valley below. A fairly long walk until you reach the gate to the "town". I am not sure where the buses go. Once you get to the centre there are many temples to visit. Probably the most interesting place is the ancient cemetery with gigantic cedar trees; a very interesting place.
Class 3
+++
photo by 663highland