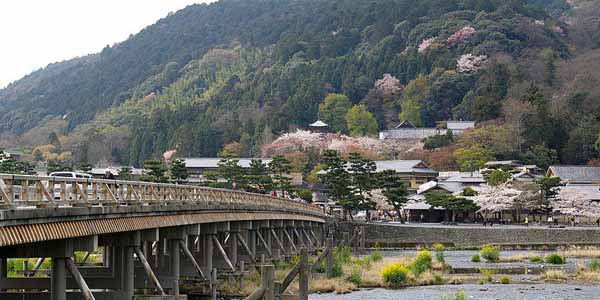 This trip is in the Kyoto area and can take a variety of forms and each one is certainly worth the trip.
Take the JR to Kyoto and change for the train going to Kameoka.
Trip A – get off at Saga station, take the "Romantic Train"; tickets can be bought next to the station. This open air train will follow the river and lets you off a few JR stops upriver and you can return to Saga by non-romantic train.
Class 1
+++
Trip B – Get off at Kameoka, about three stops past Saga. After leaving the station turn left and after a short walk there are boats that go down the river. It takes about two hours to get to Arashiyama.
Class 1
+++
Trip C – Get off one stop past Saga (Hozukyo??). This station is on a bridge across the river. After leaving the station follow the river (right, uphill). Stay on this road and after you pass a red bridge there will be a turn off on a trail down to a stream. Take this trail and follow the stream – an interesting walk. After about an hour you come to what looks like a village (hotels). Make a sharp turn uphill on a road and eventually through a tunnel. After the tunnel just keep going down hill and you will reach Arashiyama. There are many ways to go. Try to stay right toward the river.
Class 3
+++
If you end up in Arashiyama, there is much to see and do; monkeys, row boats to rent, people watching, food and nearby temples, bike rentals at the Hankyu station and the Saga JR station. Return trip can be by the JR Saga station or by Hankyu Arashiyama station. The Hankyu station is across the river to the left. Change at Katsura to the Express train going to Umeda (Osaka), change at Juso or Umeda to the Limited Express back to Kobe.
photo by Tomomarusan