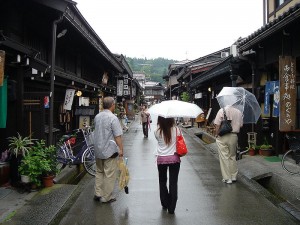 Another one of my favourite places. This would require an overnight stay but it is certainly worth the trip. This is an old town famous for wood products, ranging from all kinds of furniture to wonderful clear lacquer ware. (All prices.) It is a great place to walk. There is a section of old shops, sake houses, wood working shops. You can take a very pleasant walk along the two small rivers that flow through the town. You can pick up a very good map in English at the tourist information centre at the train station and there are all kinds of hotels available. One reason for staying overnight is the morning market (starting at 6.00 am). There are two of them, one along the river and the other in a temple nearby. Mostly food is sold, with lots of free samples. You can spend a couple of hours nibbling your way down the street. Interesting mountain vegetables and other local products are on sale. There are signs in English directing you to the various points of interest, but do some wandering up the hills. Remember when going into the shops to look not just at the products on sale but also at the building itself which can be very interesting.
In the opposite direction to the old houses and morning market, about a 20 minute walk from the train station is Hida village. This is a collection of old farm houses, most moved to escape dam projects. There is a bus that goes there, but it runs infrequently. The walk there isn't very pleasant but worth it. There are many houses to see and you can spend a good deal of time there. Explanations are in English. You may be able to get a view of the Japan Alps although most of the time these distant peaks have cloud cover.
The train ride is a long one, but the scenery along the way is beautiful as you head through the mountains along a river. From Osaka change to the Toyama line. Be sure to take the limited express; the local train takes forever. Also, be sure to check your schedules because I think there is only one train north and one south each day that is at a good time. It is possible to get there through Nagoya but that is somewhat out of the way.
Class 2
++++